Track progress with the Starbound Roadmap
posted on
Hi guys,
This has been a long time coming but we've finally completed the Starbound roadmap.
We're sorry it took a while, but as with all things Chucklefish we wanted to take the extra time to get it just right.
You can use to get an idea of the tasks we're working on and the progress of individual tasks.
Click the image below to access the roadmap!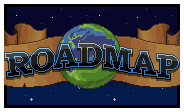 A special thank you to Tramsan, Affero and our secret helper elf for making this possible!