Newsletter
Enter your email address to sign up for the Starbound newsletter or to be notified of release.
[newsletter]
We won't give your email address to anyone else, worry not!
When you sign up, if you don't receive our welcome email, please take a peek in your spam folder and mark the email as 'not spam'. That way you'll receive the rest of our emails without a hitch!

Previous Issues
2014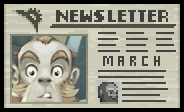 2013