Hey, its wallpaper time! Time to try getting these posted at the beginning of the month!
This month, we've got a wallpaper from Dragonith! It features a bunch of the randomly generated monsters that Tiy and Rho have been posting every week. I love the bright colors, and all of the monsters!
I think my favorite one is the purple platypus! Which monster do you like the best?
For more of Dragonith's work, check out his Deviantart page! You can also find his art in his various suggestion threads on the forums!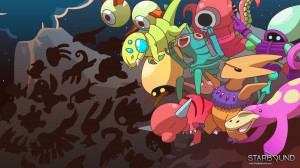 1920×1200 | 1680×1050 | 1440×900
1280×800 | 1920×1080 | 1600×900
1366×768 | 1600×1200 | 1024×768